We don't know yet whether it will be possible for you to visit us on the traditional wine spring dates at our winery. But if you can't come to the wine spring, the wine spring will come to you! In our fresh wine package we have gathered those six wines from the 2020 vintage that we have already filled in bottles. In addition to the aromatic varieties Gelber Muskateller and Sauvignon Blanc, there are also the lighter and medium weight Grüner Veltliner Point and Loiser Weg as well as Rieslings Vom Löss and Kremsleithen.
Do you want a taste? Then order your wine spring package (6 x 2 bottles) right now for € 110,-.
We will of course pay the shipping costs within Austria.
Wine package 'Wine Spring'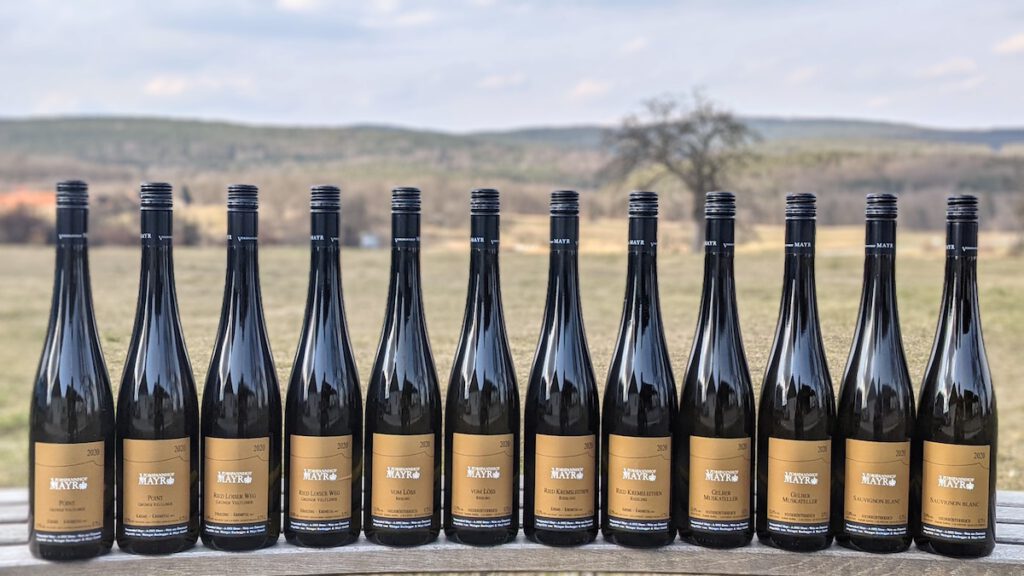 2 bottles Grüner Veltliner Point 2020

A fine spicy and easy-drinking Veltliner of the classic Kremstal style.

2 bottles Grüner Veltliner Loiser Weg 2020
A medium-bodied, elegant Veltliner with a balanced acid structure and a long finish.

2 bottles Riesling vom Löss 2020
Our entry-level Riesling: light, easy-drinking, crisp, very fragrant and already very accessible.

2 bottles of Riesling Kremsleithen 2020
The Riesling from the primary rock terraces. Expressive fruit paired with minerality.

2 bottles Sauvignon Blanc 2020
Our little diva presents itself with fine elegance and grassy notes.
2 bottles Gelber Muskateller 2020
Our Muskateller is regularly among the best rated of its kind in Austria. The ideal aperitif with fine fruit.
Order the wine spring package right away by e-mail!
The package with twelve wines costs € 110, -. Within Austria we pay the shipping.
P.S. Our sister winery Weingut Bucheggernow also offers a new wine package. In the "first 2020s" you will find 2 x 6 wines from the 20 vintage, which we have already bottled. The package costs € 115, – and is delivered free of charge within Austria If you order both packages you pay € 220,- instead of € 225,-.
P.P.S.: We still hope to meet each other soon to taste our new wines. P.P.S.: We still hope to meet each other soon to taste our new wines. As soon as we are allowed to realize our event ideas, we will inform you as soon as possible.