We are cooking again at the Vorspannhof! Not regularly, but regularly at the highest level. Not particularly often, but on special occasions and with special guest chefs.
For the start we could win a special guest chef: Jürgen Vigne, who runs Pfefferschiff in Söllheim, Salzburg, with his wife Iris, has been one of Austria's best chefs for many years. The cuisine of the native Kremstaler (from Stratzdorf near Gedersdorf) has been awarded 1 Star Guide Michelin, 3 Hauben Guide Gault Millau and 4 Stars Guide A la Carte.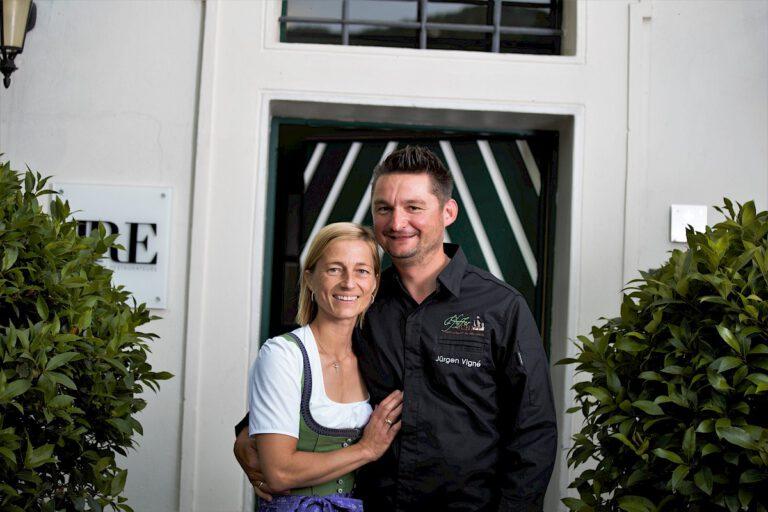 For us Jürgen cooks up during the Tour de Vin on April 30 and May 1. During the day, he provides a small but fine menu of refreshments in the old press house of the Vorspannhof. In the evening he will prepare a surprise menu to which we will open the best of our wine cellar. For the evening menu we ask for advance reservation.
The Tour de Vin is a unique opportunity to get an overview of the new vintage. With the Tour de Vin button for € 25, – you can visit the 40 member wineries of the Österreichischen Traditionsweingüter Region Donau on April 30 and May 1 and taste all the current wines. At our winery in Dross, we invite you to taste not only the freshly bottled wines of the 2021 vintage, but also older wines – from Vorspannhof Mayr and Weingut Buchegger.
Jürgen Vigne as a guest at Vorspannhof
À la carte during the Tour de Vin on April 30 and May 1 from 12 to 5 p.m. – without advance reservation!
Surprise menu on both evenings from 6:30 pm.
There is a limited number of guests for both evenings!
Menu incl. wine accompaniment: € 135,00
Only with advance reservation – ticket sales at:restaurant@pfefferschiff.at